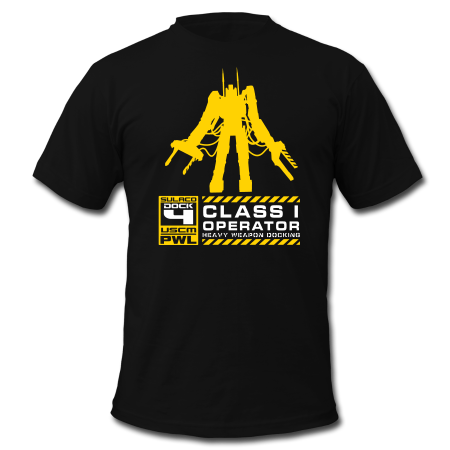 New design based on the movie Aliens.
Get it in the US shop or Get it in the EU shop
Some months ago, I had a similar design that went out of the shop. Now, an updated version comes in based in my own redesign and the nice reviews and suggestions by my "friends" in my facebook page. Love you all 😉
A working t-shirt for Colonial Marines certified as PWL Class I operators aboard the USS Sulaco.
Tweet

For those of us who had the chance to watch Aliens back in 1986, the vision of the Power Loader was something hard to forget. Later came Matrix Revolutions and Avatar with even more impressing exoskeletons, but everything has his time and in my case the Power loader left the most vivid impression.
Printed in durable vinyl.
As with all my designs the product is printed in vinyl, so it won't fade with washing (see printing methods in new tab).
We got you covered. Many products to choose.
T-shirts, long sleeves, and hoodies are available for both men and women. Plus sizes too.
Get it in the US shop or Get it in the EU shop
Related designs: